Welcome to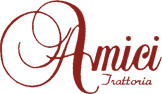 For over 30 years,
Amici Trattoria has been serving authentic Italian food in Chelmsford. Our food is fresh and prepared to order and our portions are generous. Enjoy a dinner with friends or family. We look forward to serving you!
All our delicious menu items are also available for takeout.
We will be closed from September 19th through September 28th and reopen on the 29th at 11 am. Sorry for any inconvenience.